Hello, Year 5! I have written a letter to you all:

---
Purple Mash ICT:
Parents can apply for free membership via the link below.
A good one to investigate, as Arbory have purchased this resource for use as soon as school resumes!
Your child's teacher may also set Purple Mash activities as part of their class's weekly plan.
---
Please click to download Home Learning activities for Year 5 children:

Home Learning for week commencing 15.6.20

Year_5_Home_learning_15_6_20.pdf

Y5_Writing_One_Chance.pdf T_L_2407_Persuasive_Writing_Word_Mat_ver_1.pdf

Images_of_Castle_Rushen.pdf Castle_Rushen_Part_1.pdf Henry_VIII_Links_to_the_Isle_of_Man_.pdf Thomas_Quiz_William_Shakespeare_Answers.pdf

Maths:

Lesson_1_Add_whole_numbers_with_more_than_4_digits_column_method_2019.pdfLesson_1_Answers_Add_whole_numbers_with_more_than_4_digits_column_method_2019.pdf
Lesson_2_Subtract_whole_numbers_with_more_than_4_digits_column_method_2019.pdfLesson_2_Answers_Subtract_whole_numbers_with_more_than_4_digits_column_method_20.pdf

Lesson_3_Round_to_estimate_and_approximate_2019.pdfLesson_3_Answers_Round_to_estimate_and_approximate_2019.pdf

Lesson_4_Inverse_operations_addition_and_subtraction_2019.pdfLesson_4_Answers_Inverse_operations_addition_and_subtraction_2019.pdf

Y5_Week_7_Alternative_Plan.pdf

---
Home Learning for week commencing 25.5.20

Year_5_home_learning_25th_29th_May.pdf

Instructions_for_a_bug_hotel_.pdf

Andy_Goldsworthy_Beach_Art_.pdf

Plan_your_own_Tudor_banquet_wsht.pdfTudor_feast_information.pdf

The_Time_Machine_Classic_VIPERS_Comprehension_The_Time_Machine_Extract_Comprehen.pdfThe_Time_Machine_Classic_VIPERS_Comprehension_The_Time_Machine_answers.pdf

William_Shakespeare_Quiz_from_Thomas_.pdf

Maths:

Year_5_Week_6_video_links_.pdf

Year_5_Spring_Block_2_FB4_1.pptx

Lesson_1_Multiply_unit_and_non_unit_fractions_by_integers.pdf Lesson_1_Answers_Multiply_unit_and_non_unit_fractions_by_integers.pdf

Lesson_2_Multiply_mixed_numbers_by_integers_2019.pdf Lesson_2_Answers_Multiply_mixed_numbers_by_integers_2019.pdf

Lesson_3_Fractions_of_an_amount_2019.pdf Lesson_3_Answers_Fractions_of_an_amount_2019.pdf

Lesson_4_Fractions_as_operators_2019.pdf Lesson_4_Answers_Fractions_as_operators_2019.pdf

---
Home Learning for week commencing 18.5.20

Year_5_writing_project_Meet_the_Rhi_swano_zeb_tah_.pdf

stretch_a_sentence_example_.pdf

first_news.pdfFirst_news_copy.pdf
Maths:

Lesson_1_Add_and_subtract_fractions_2019.pdf Lesson_1_Answers_Add_and_subtract_fractions_2019.pdf

Lesson_2_Add_fractions_2019.pdf Lesson_2_Answers_Add_fractions_2019.pdf

Lesson_3_Add_mixed_numbers_2019.pdf Lesson_3_Answers_Add_mixed_numbers_2019.pdf

Lesson_4_Subtract_mixed_numbers_2019.pdf Lesson_4_Answers_Subtract_mixed_numbers_2019.pdf
---
Home Learning for week commencing 11.5.20

Year_5_week_beginning_11_05_2020.pdf

William_Shakespeare_reading_pack.pdf

Migration_wordsearch_Year_5_6.pdf

Butterfly_identification_chart.pdf

Maths:

Year_5_Week_4_maths_video_links_to_help_with_lessons_.pdf
Lesson_1_Area_of_rectangles_2019.pdfLesson_1_Answers_Area_of_rectangles_2019.pdf

Lesson_2_Equivalent_fractions_2019.pdfLesson_2_Answers_Equivalent_fractions_2019.pdf

Lesson_3_Convert_between_Improper_and_mixed_numbers_2019.pdfLesson_3_Answers_Convert_between_Improper_and_mixed_numbers_2019.pdf

Lesson_4_Compare_and_order_fractions_less_than_1_2019.pdfLesson_4_Answers_Compare_and_order_fractions_less_than_1_2019.pdf

---
Home Learning for week commencing 4.5.20

Topic:

Passport_to_TUDOR_times.pdftudor_art.pdfTudor_timeline_week_3_.pdf

Rivers_of_the_Isle_of_Man_.pdf

Literacy:

Robinson_Crusoe_Classic_VIPERS_Comprehension_Wrecked_on_a_desert_island_extract_.pdf

Robinson_Crusoe_Classic_VIPERS_Comprehension_Wrecked_on_a_desert_island_answers.pdf
The_Tunnel_week_3_writing_task.pdf

Writing_week_3_An_unexpected_adventure_.pdf

Maths:

Lesson_1_Multiply_2_digits_area_model_2019.pdfLesson_1_Answers_Multiply_2_digits_area_model_2019.pdf

Lesson_2_Multiply_4_digits_by_2_digits_2019.pdfLesson_2_Answers_Multiply_4_digits_by_2_digits_2019.pdf
Lesson_3_Divide_with_remainders_2019.pdfLesson_3_Answers_Divide_with_remainders_2019.pdf
Lesson_4_Calculate_perimeter_2019.pdfLesson_4_Answers_Calculate_perimeter_2019.pdf
Day_5_Estimate_it_Minute_marathons.pdf
Problem_of_the_day_Mon.pdfProblem_of_the_day_Tuesday.pdfproblem_of_the_day_Wednesday.pdfProblem_of_the_day_Thursday.pdf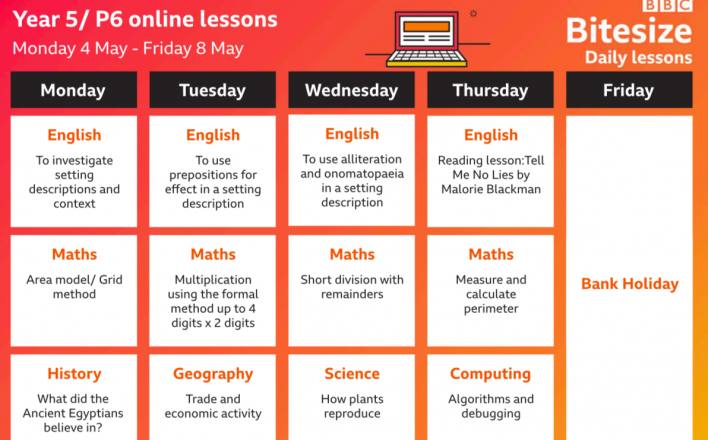 ---
Home Learning for week commencing 27.4.20

Year_5_homelearning_27_4_20_.pdf

Rivers:

River_project_27_4_2020_year_5_.pdf
ni2_g_4_river_glossary_activity_ver_2.pdf

world_map_rivers_labelling_activity_higher_ability.pdf

Maths:

Y5_Week_2_maths_planning_summer_term.pdf

lesson_1_rounding_decimals_.pdf
1_Rounding_decmals_answers.pdf

lesson_2_order_and_compare_decimals.pdf

lesson_2_order_and_compare_decimals.pdf

Lesson_3_understand_percentages_.pdf

lesson_4_percentages_as_fractions_and_decimals.pdf

Lesson_5_Y5_Spring_Block_3_WO10_Equivalent_FDP_2019.pdf

For the extra keen:

Wk2_Day1_Decimals_Multiply_and_divide_by_10_100_and_1000.pdf

Wk2_Day2_Decimals_Rounding_to_the_nearest_tenth_and_whole.pdf

Wk2_Day3_Use_equivalence_to_compare_and_order_fractions.pdf

Wk2_Day4_Find_unit_fractions_of_amounts.pdf

Wk2_Day5_Find_non_unit_fractions_of_amounts.pdf

Science:

How_long_does_it_take_for_a_leaf_to_rot_Explorify.pdf

---
Home Learning for week commencing 20.4.20

Year_5_Home_learning_20_420.pdf

Topic:

t2_e_5176_uks2_henry_viii_differentiated_reading_comprehension_activity_ver_3.pdf
Science activity:

Maths plan on Decimals, with pre-downloaded activity sheets:

Lesson_1_Y5_Summer_Block_1_WO1_Adding_decimals_within_1_2020.pdf

Lesson_1_Y5_Summer_Block_1_ANS1_Adding_decimals_within_1_2020.pdf

Lesson_2_Y5_Summer_Block_1_WO2_Subtracting_decimals_within_1_2020.pdf

Lesson_2_Y5_Summer_Block_1_ANS2_Subtracting_decimals_within_1_2020.pdf

Lesson_3_Y5_Summer_Block_1_WO3_Complements_to_1_2020.pdf

Lesson_3_Y5_Summer_Block_1_ANS3_Complements_to_1_2020_1_.pdf

Lesson_4_Y5_Summer_Block_1_WO4_Adding_decimals_crossing_the_whole_2020.pdf

Lesson_5_Y5_Summer_Block_1_WO5_Adding_decimals_with_the_same_number_of_decimal_p.pdf
Lesson_5_Y5_Summer_Block_1_ANS5_Adding_decimals_with_the_same_number_of_decimal_.pdf

Home Fun Activities

Day_5_Estimate_it_Minute_marathons.pdf

Day_6_Bake_it_Biscuit_Tower.pdf

Day_7_Play_It_memory_games.pdf

---
---